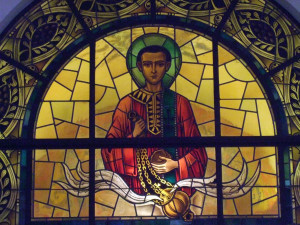 The Feast of Saint Stephen (Soorp Stepanosi Don) is a very special feast celebrated in the Armenian Church on December 25. It is a day when the great protomartyr and first deacon of the Church is honored in such a way that all the deacons of the Armenian Church are remembered and honored as well.
Saint Stephen (Saint Stepanos in Armenian) was the first Christian martyr and the first of seven deacons to be ordained by the twelve apostles. The responsibility of these seven deacons was to take care of the secular needs of the Hellenic (Greek Speaking) Jewish Christian community in Jerusalem. If we read Acts 6 & 7 we see that Saint Stephen did much more. Reading on in Acts 8, we understand that Stephen began to preach the word of God," and Stephen, full of the grace and power, did great wonders and signs among the people."
Truly feeling the power of God, Saint Stephen worked hard to spread God's name and love in the Jewish community of Jerusalem. However, he became controversial, falsely accused, and taken to the Sanhedrin, charged with blasphemy and convicted. He was stoned to death as he was cast out of the city. The site of his martyrdom was the eastern gate of Jerusalem, which was later, named after him.
As he was being stoned, Stephen prayed, "Lord Jesus, receive my spirit." Then he knelt down and cried with a loud voice, " Lord do not hold this sin against them." Acts: 7.59.
In summary: Saint Stephen was the first martyr and also the first protodeacon. His feast day holds much meaning for us as Armenian Christians. Saint Stephen has been an example of Christian life. We honor him on his feast day and honor those who have followed his path.
A beautiful stain glass window of Saint Stephen (shown above) is located above the sanctuary doors in our Church, which remind us each time the doors are used, of this great Saint whose name we have chosen to honor and remember. We at Saint Stepanos Armenian Apostolic Church are proud to bear the Saint Stepanos name.